Isabelle Douglas, Partner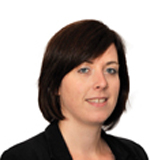 My association with Aberdein Considine began as a Summer Student, where I remember being impressed by the "hands on" approach adopted by the firm's Partners. Having experience in a legal office set me apart from many of my peers when applying for traineeships and I have had no regrets about accepting a traineeship with Aberdein Considine.
I started my traineeship in 2007 in the firm's City Centre property shop and after requesting some experience in Family Law, I moved to the Family Law Team in 2008, where I have remained. I was promoted to Senior Solicitor in January 2013, to Associate Partner in January 2014 and to Partner in January 2016. Family Law provides an excellent balance between Court work and office based meetings and negotiation. It has provided me with regular client contact which I enjoy and numerous challenging cases to resolve.
A trainee at Aberdein Considine is set high standards and is expected to work hard. From day one, a trainee will be given their own caseload to manage. As you would expect, every day brings new challenges but working on your own initiative is rewarded not least by the incredible feeling of achievement when a case has settled. Each trainee works closely with their Training Partner but support is also provided by more senior Solicitors and other trainees. There is definitely camaraderie and team spirit here which means there is always someone willing to help.
Many of the Partners at Aberdein Considine also trained with the firm which evidences the commitment which the firm demonstrates towards its trainees and the real opportunities for career progression within the firm. I have also always been impressed by how much the firm invests in support for their lawyers, information technology and training to ensure that we remain a market leader.
Being a full service legal firm, Aberdein Considine provides trainees with the opportunity to gain experience in many different areas of law. We are continuing to strengthen our presence in the Central Belt which can only ensure that our trainees are offered a more varied training across Scotland.
A traineeship with Aberdein Considine may be more demanding than many but hard work is rewarded and you will gain invaluable practical experience and skills. The firm's Partners greatly values its staff and is keen to promote a good work/life balance.