Laura Ventre, Solicitor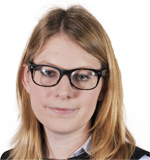 I started my Traineeship with the firm in May 2013 working in the Dispute Resolution Department. As soon as I arrived, I was made to feel welcome at Aberdein Considine and found everyone to be very friendly, approachable and supportive and I quickly settled in. I was given my own caseload from day one, which meant that I gained a vast amount of experience early on yet, I have always felt that I had the support of my colleagues, be it fellow Trainees or Partners; everyone has been willing to listen and assist with complex cases. Equally, from the outset, I have been encouraged to gain and develop a wide variety of skills as the firm is very modern, progressive and supportive of its staffs' individual abilities and is always finding ways to develop and improve within its areas of speciality.
I still work within the Dispute Resolution Department with my main focus being on Heritable Repossession, Debt Recovery and general Civil Litigation. As well as these areas, during my traineeship I gained varied experience in areas such as Employment, Personal Injury, Insolvency and Professional Negligence, as well as getting the opportunity to carry out research in other practice areas for the various different departments. The nature of the work means it is fast-paced and can be daunting and challenging at times, but I can personally attest to the fact that the firm very much encourages and appreciates Trainees' hard work and rewards one with the 'Trainee of the Quarter' accolade.
During my Traineeship, I gained the opportunity to 'cut my teeth' appearing in court, drafting contracts, Writs and written pleadings, presenting emerging areas of law to clients and colleagues, researching legal developments and decisions, negotiating settlements and networking with business contacts on at least a weekly, if not daily basis. It is having had the opportunity to gain such well-rounded experience, that I feel that I have become a knowledgeable and capable fully qualified Solicitor. In addition to this, gaining a specialised litigation experience so early certainly benefited me greatly and allowed me to progress quickly as my workload became more complex.
It has certainly not been all hard work and no play though and one of the aspects I have enjoyed most about working for the firm is the number of social events that are organised! There is always a night out on the horizon which allows you to meet, network and socialise with your fellow Trainees and colleagues from other offices and departments. All in all, a Traineeship with Aberdein Considine is never dull.