Shaju Noor, Solicitor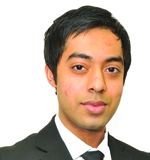 I would describe working at Aberdein Considine as both challenging and rewarding. The challenge came from day one - I joined the firm in March 2013 as a trainee paralegal within the court support department and was immediately given my own case load. Since then I have continued to work in the court support team dealing with court hearings in the context of repossession actions raised on behalf of our lender clients. The fact that our clients consist of the largest banks in the country means that a high standard of knowledge and skill is required to ensure that we achieve the best possible outcome for clients who expect results.
The responsibility handed to me from the outset is a source of encouragement and I feel the work I do is significant and therefore my role is an important one. There are certainly no 'passengers' at this firm! The result of this has been the expansion of my responsibilities - I am now required to conduct research, assist solicitors with other types of litigation cases as well as conduct weekly conference calls with lender clients. The fact that I work closely with solicitors and trainee solicitors means that I am in a perfect position to learn from them. Indeed, I am heartened by the positive approach taken by my colleagues towards my own training and development.
Closely linked to the working life at Aberdein Considine is the social aspect. I have found that opportunities to unwind are available on an almost weekly basis, including games nights, bowling, football, go-carting and even trips to activities centres. This compliments the generally relaxed and friendly atmosphere in the daily office environment where things are never dull!
Looking forward, I am delighted to have accepted a trainee solicitor position with the firm. Having worked closely with trainees, I feel confident that I am in a good position to deal with a greater level of responsibility, having already experienced this as a paralegal. The prospect of deepening my legal knowledge and applying it in diverse contexts is an exciting one, as is the scope to attend court hearings. The offer of a traineeship is proof that everyone is given the chance to shine here and if you're willing to put the effort in, your contribution is never overlooked. This is the reward that the challenge offers.