Eleanor Comfort, Senior Associate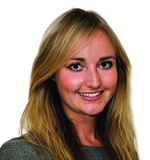 Whilst undertaking my undergraduate degree at The University of Glasgow I decided that I was keen to return to Aberdeen, where I was brought up, to undertake my traineeship. I was therefore delighted when in 2011 Aberdein Considine offered me a traineeship commencing in May 2013 in their Main Office in Aberdeen.
I moved back to Aberdeen once I graduated in 2012 to undertake my PEAT 1 at Aberdeen University and was asked to start working at Aberdein Considine as a summer student. Whilst feeling somewhat daunted on my first day, with all the new faces and office etiquette to learn, within a week I felt right at home. Everyone made me feel welcome and at ease from the word go. I spent my summer moving between the repossession conveyancing, remortgaging and residential conveyancing departments. In the process I quickly gained an insight into how law works on a day to day practical basis in different departments within the firm. It turns out that four years of reciting case law, regurgitating statutes and writing essays is not quite the same thing! I continued to work as a student for a few days a week throughout my PEAT 1. This allowed me to stay involved in the firm and earn some precious pennies.
I began my traineeship in May 2013 in the residential conveyancing department where I spent the next year. The year absolutely flew past and was a blur of hard work, new friends and the learning of much information, skills and lessons. From day one of my traineeship I was given considerable responsibilities and within the first month I had my own files. I was quickly given the opportunity to learn about conveyancing, dealing with clients and managing a substantial case load. In my second year I moved to the firm's Dyce office. In the Dyce office I began acting for clients in sale and purchase transactions as well as undertaking a range of general private client work. I really enjoyed the opportunity of experiencing a new office and being part of the firm's branch network. I qualified as a solicitor in May 2015 and have remained in the firm's Dyce office where I have continued in my client facing role. I absolutely love the constant client interaction that the job brings and no day is ever the same.
Aberdein Considine is an ever growing firm and one that prides itself on being friendly, inclusive and sociable. The traineeship network within the firm is strong and there is always a fellow trainee available with whom to discuss work problems or to share a drink with on a Friday night. There is also a variety of firm wide social events to get involved in which always provide for both a fun time and a great opportunity to meet staff members from different offices. The firm operates a mentor programme whereby every trainee is appointed a qualified solicitor to act as their mentor. This provides an important support network which I found to be a great help. I am now a mentor myself and enjoy keeping an eye on the new trainees. All the partners and solicitors in the firm operate a doors open policy which means that there is always someone available to ask and learn from.
I can honestly say that my traineeship at Aberdein Considine was a superb experience. The firm is one that values its trainees and gives them the opportunity to carry out real legal work from the outset and invests in their future as a qualified solicitor.