Cara Ramsay, Trainee Solicitor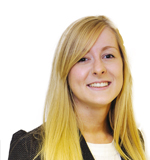 My first experience of the firm was in 2011, when I started as a Summer Student in the Stonehaven Branch. I had previous experience working in smaller firms however, Aberdein Considine was a very different experience and presented me with a very hands on approach. I was soon answering phone calls and dealing with general client queries quite early on.
I continued working for the firm throughout my final year of my LLB and during the Diploma, both at RGU, which was great as it allowed me to maintain legal experience whilst earning some much needed cash at the time whilst studying.
Having originally moved to Aberdeen from my hometown of Edinburgh, I decided to maintain my commitment to the firm and was fortunate enough to be offered a traineeship in September 2013 and commenced my traineeship not long after completing my Diploma in June 2014. I started my traineeship in the Residential Conveyancing Department. From day one, I was given my own files and clients, which at first seemed a daunting task however, it has increased my confidence and ability to deal with difficult clients and problematic transactions.
I am now nearing the end of my traineeship, and qualify in June 2016. Everyone in the firm is very approachable if, and inevitably when, I require assistance from a more experienced individual.
The firm does expect you to work hard and work to a high standard for our clients, but your hard work is recognised and often rewarded which allows for great opportunity to socialise with your colleagues, both in your department and out with. So far, it has definitely been a test of my character, patience and determination but overall, I am enjoying the challenges my traineeship continues to present me with.