Wilson Browne, Solicitor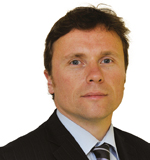 Aberdein Considine offered me a traineeship commencing in June 2014 in their Livingston Office. Only a few months in and already everyone has made me feel welcome and at ease. The environment and culture of the Firm is one that is friendly, inclusive and sociable. I have spent my first few months in the conveyancing team dealing mainly with residential property whilst assisting in some commercial deals. It wasn't very long before I was passed my first live files and within a month I had my own case load dealing with all aspects of sale and purchase files. Whilst daunting I always felt safe in the knowledge that if I was unsure about something I could seek the advice and guidance from my mentor, who is a qualified solicitor. All the partners and solicitors in the Firm operate an open doors policy which means that there is always someone available to ask and learn from.
I can honestly say that my traineeship at Aberdein Considine thus far has been an exhilarating experience.