Cameron Milne, Solicitor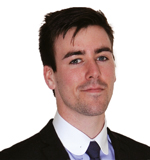 I started my traineeship with the firm in August 2014 working in the Stonehaven Branch, dealing mainly with residential conveyancing. From the moment I stepped through the office door, I was made to feel welcome at Aberdein Consdine. My colleagues were all incredibly welcoming, which instantly put me at ease. On my first day I was given my own files and had met a client within my first week of work. Having my own caseload from the get go has allowed me to gain vital knowledge, confidence and experience early on. Although I have my own files, I know that should I ever feel lost or unsure about anything then I have a wide range of support to fall back on. The firm operates an open door policy so there is always someone available to give advice and guidance.
As well as furthering my legal knowledge, I have found that a traineeship with Aberdein Considine also develops other skills such as networking and public speaking, which are vital in the modern legal world.
A traineeship with Aberdein Considine is no walk in the park and nor should it be. The work is quite intensive but hard work is always recognised. There is a closely linked social aspect to work at Aberdein Considine. There are countless social events to choose from which allow you to network and socialise with fellow Trainees and colleagues from other offices.
On my first day I was told that, "with a traineeship with Aberdein Considine, you get what you put in." I think this couldn't be truer and that with hard work, a Traineeship with the firm is very rewarding.