Rebecca Maynard, Solicitor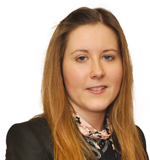 I started work at Aberdein Considine as a Paralegal in July 2013 - the day after Andy Murray's Wimbledon victory. Having already secured a traineeship with the firm, I was lucky enough for this to start in October of that year, alongside two other trainees, Stephanie and Sarah, both of whom still work at the firm.
Primarily specialising in conveyancing, I commenced my traineeship in the firm's Residential Conveyancing Team before splitting my time between the busy Banchory, Stonehaven and Perth offices where I was lucky enough to work for one of the firm's founding Partners, Iain Considine.
The firm make sure you start with less complicated files before moving onto more challenging and complex conveyancing and ultimately client facing roles. There is full help and support whenever you need it and you are given your own workload and allowed to manage your own files from the very beginning.
Having qualified as a Solicitor in October 2015, I embarked upon a new role within the firm's Inverurie office, providing front line support to another of the firm's Equity Partners.
Be in no doubt that the workload is challenging - it certainly teaches you a lot about time management, but those willing to put in the effort, are certainly able to reap the rewards. Not only does Aberdein Considine provide opportunities to progress your legal career, there is also an excellent support structure and team spirit across the firm and its numerous branches.