Sarah Lynch, Solicitor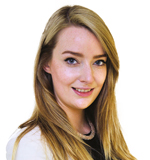 I began my Traineeship with Aberdein Considine in June 2014. While attending Glasgow University and Edinburgh University for my undergraduate degree and Diploma respectively, I undertook courses such as professional and medical negligence, personal injury and employment law and thoroughly enjoyed these areas of civil litigation. I was therefore delighted to be offered the position of Trainee Solicitor at the firm's Dispute Resolution office in Edinburgh.
It does sound like a cliché, but from my first day as a Trainee with Aberdein Considine I was made to feel like part of the team. Being fortunate enough to work in such a friendly and supportive atmosphere has made the 2 year Traineeship absolutely fly by. I was given my own case load as soon as I started which came with a lot of responsibility; however there was always someone to speak to if I needed to discuss anything. Aberdein Considine operates a mentoring system whereby your designated mentor is never far away to offer guidance on any aspect of the Traineeship.
My Traineeship has flown by and highlights have included appearing at court for the first time, numerous work social events and being given the responsibility to oversee my own caseload. Having recently qualified, I am looking forward to taking forward the skills and experience gained as a trainee onto the next stage of my career with Aberdein Considine.