Sarah Newnham, Solicitor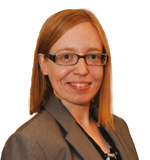 Having had very little experience of working in a law firm I was apprehensive for starting my traineeship in October 2013. However, I instantly felt comfortable as all staff in the Firm were extremely friendly.
Upon starting a traineeship with Aberdein Considine, you are given your own caseload. You have to hit the ground running as you are likely to face scenarios you never learned about at University fairly early on in the traineeship. Having spoken to other people who I went to University with it is easy to see that my traineeship has been a lot different to some of theirs. An Aberdein Considine traineeship does not have multiple "seats" but rather you are based in one department for the entire 2 years. This allows you to gain in depth experience and become specialised in one area of law. Also, you are encouraged to have client contact from an early stage giving you the opportunity to build strong client relationships.
As Aberdein Considine is such a busy Firm, the workload can seem quite daunting to begin with. However, it encourages you to time manage effectively from the beginning and provides an accelerated learning process. There is always someone to go to for help should you come across something you are unsure of. Also, the Trainees are a very social group, providing plenty of opportunities to get advice from others who are at a similar stage in their career.
Although the traineeship is hard work from day one, the Firm gives you the opportunity to show your abilities which stands you in good stead for the future. It also means that you can never say it is boring!
I am now nearly a year into my traineeship and feel like I have learned so much already. The time flies by. My advice to future Aberdein Considine trainees would be to take all opportunities you are given and never be afraid to ask for help. If you do that your traineeship should be rewarding and an enjoyable experience.