Stuart Allan, Trainee Solicitor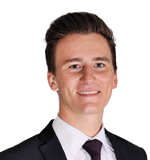 My route to starting my traineeship with Aberdeen Considine has probably been different to most given that I initially secured a 3 month summer placement which evolved into a 4 year student placement as I was retained on a part time basis throughout the academic year, and given the option of working full time hours during the summer holidays.
My first experience with Aberdein Considine came in 2011 when I commenced my summer placement in the Dyce branch between my first and second year at Aberdeen University. I was initially assisting with both the Residential Conveyancing Team and the Remortgage Department which gave me a flavour of working in an office environment and importantly the daily running of a busy law firm. I also had the opportunity of working in the Property Shop on Union Street and also in Main Office on Bon-Accord Crescent giving valuable experience of working out of estate agency branches as well as in a purely legal office. I made the decision to undertake PEAT 1 at the University of Glasgow and the Firm gave me the opportunity to continue my placement in the then newly established Glasgow Office enabling me to witness firsthand their expansion into Scotland's central belt.
My time as a student working with the firm undoubtedly helped me throughout both my LLB at Aberdeen University and during PEAT 1 at the University of Glasgow; this was not only from the practical skills which I had learned but also, and perhaps more importantly, the knowledge and expertise which I could call upon from both the paralegals and solicitors which I worked with and who were always more than happy to help. One of the main appeals of Aberdein Considine for me personally is the number of current Partners who undertook their traineeships with Firm, which I feel demonstrates the commitment of Aberdein Considine to invest quality training and time in their trainees. Although it may sound extremely cheesy, trainees really are taken on with the view of helping them to learn and evolve into valuable assets of the Firm and to be future Partners; not to qualify as solicitors after two years and leave.
Although my time working as a student took away the initial fear of walking into a new place of work for the first time, there was undoubtedly still that sense of stepping into the relative unknown. I have been fortunate in securing my traineeship in the Corporate and Commercial department and although I am only one month in, I feel that the appropriate balance has been struck by giving me the opportunity to work independently however, having the ability at all times to seek the expertise and advice from Partners and other colleagues in my department. The chance to assist Jacqueline Law and Ritchie Whyte (two Corporate and Commercial Partners) in transactions for some of the Firm's major clients, and attend meetings with said clients, is also of invaluable experience.
If you are look to undertake a traineeship which will provide the opportunity to grasp your own case load, which will challenge you and which will give you the best possible training and experience to come out at the end of two years as a capable and desirable newly qualified solicitor, I have no doubt that Aberdein Considine is the place for you.