Erin Shand, Senior Solicitor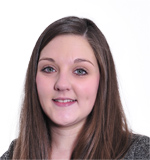 I joined Aberdein Considine in October 2015 as a paralegal within the remortgage department but was given the opportunity to join the firm's Corporate and Commercial team as a trainee solicitor. I was delighted to be given the opportunity and began my traineeship in February 2017.
Moving to the Corporate and Commercial team to begin my traineeship was both exciting and daunting. The nerves didn't last long though as I was made to feel like part of the team straight away. Working in a friendly and supportive atmosphere has made settling into life as a trainee much easier.
Being given the chance to assist Partners and other senior members of the team on a daily basis provided me with invaluable experience. Equally, having the opportunity to work independently is a great way to further your knowledge and skills. The team were always willing to offer support when needed and there is no such thing as a stupid question.
As a trainee at Aberdein Considine you are given your own workload and files from the outset which is both challenging and rewarding, however the support network within the firm means that there is always someone to turn to. The firm continues to grow and there are always opportunities for trainees to learn and develop their skills.
One thing is for sure, a traineeship with Aberdein Considine is challenging but hard work is rewarded and you will be given the best possible training to help you evolve into a qualified solicitor.