Mairi Innes, Trainee Solicitor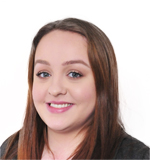 I am currently completing my Traineeship in our busy Perth branch and so far the Traineeship program has provided me with hands-on experience of working in the legal sector. I began my Traineeship a few months after graduating from the Diploma in Legal Practice in 2016. The skills I gained during the Diploma have been invaluable to me whilst making the transition from academia to employment and I have been given opportunities to develop these skills further in the Traineeship.
Upon beginning my training contract, I was warmly welcomed by all the staff and made to feel as part of the team. I found that from the start there has been adequate resources and personnel to turn to for support and advice, whether substantive or in relation to internal office and firm procedures. In addition, I had support from other existing Trainees, colleagues and partners in other branches. The network of Trainees throughout the firm definitely helped to get settled in. Even though you will become very familiar with your own branch of Aberdein Considine, there is definitely also a feeling of camaraderie and community within the firm as a whole. This is aided by the firm's mentor scheme, which ensures that new Trainees have a qualified solicitor to turn to for any general queries. Starting the Traineeship was definitely daunting and certainly a jump from the Diploma. During the first few weeks here there was certainly an air of trying to soak in as much information as possible; I cannot downplay how important the support I had from my team was in helping me find my feet and get stuck into the Traineeship.
My Traineeship seat is primarily in Conveyancing, with some work coming from Wills and general private client cases. Enabling Trainees to become heavily involved in their department's workload from the very start of the Traineeship is an attitude that Aberdein Considine whole-heartedly endorses. Within the first couple of weeks of working in Conveyancing I had my own set of files. This evidently came with a lot of responsibility however, this aspect to the Aberdein Considine Traineeship has allowed me to develop organisational and work management skills –essential for any Trainee in order to manage their files and workload.
By working in the Conveyancing department and particularly in a front line office, I have been able to develop client facing skills such as negotiation, providing legal advice and guidance and taking client instructions, skills which are invaluable for a Trainee in any department. I can say with certainty that opportunities to tackle more complicated cases or transactions have been abundant since starting my Traineeship. This aspect of working at Aberdein Considine means that no one day is the same as the next and your knowledge, perseverance and resolve are continuously challenged throughout your Traineeship. Although being a Trainee here is tough, hard work is rewarded.
Overall, I have thoroughly enjoyed working as a Trainee Solicitor at Aberdein Considine and I am looking forward to continuing to develop within the company.