Daniel McFarlane, Trainee Solicitor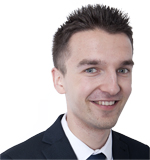 I began working for Aberdein Considine as a Summer Student back in May 2014. I was kept on after my summer placement and worked for the firm during term time while at University. I began my Traineeship at the end of May 2016 in the Dyce branch dealing with residential conveyancing transactions. All my colleagues in Dyce are incredibly helpful and that definitely put me at ease in my first few days. As of day one I was given my own files to work on. Having my own caseload so early on in my traineeship was absolutely key to gaining experience and confidence. If I ever felt lost or needed guidance, my supervising partner and other colleagues were extremely helpful and talked me through things. The firm operates and open door policy so there is always someone available to talk to when help is required. As I gained more experience with residential conveyancing, I then started to take on files from the Westhill office. This increased my case load further and gave me good experience in terms of prioritising and managing my work.
As I began to meet more clients my confidence grew and establishing a good rapport with clients is excellent for a good client/solicitor relationship. This is something I was taught on my first day with the firm. I am now 9 months from completing my traineeship with the firm and I have now moved onto more front line estate agency work. I mainly deal with First Time Buyers and I have found this to be a very rewarding experience.
Aberdein Considine is an expanding firm with lots of opportunities. The traineeship network in the firm is excellent and there are always fellow trainees to discuss work with and also to socialise with! The firm also hosts various events in which I am able to interact with staff from other offices.
Each trainee solicitor is appointed a mentor. I found this to be of great help because they are always just a phone call away should they need any assistance.
With 9 months to go of my traineeship with Aberdein Considine, I would say the experience has been challenging but also extremely rewarding. I look forward to developing my skills even further with the firm and I know that when qualification day comes, I will have had one of the best traineeship experiences that there is in the legal profession in Scotland.