Chloe O'Hara, Trainee Solicitor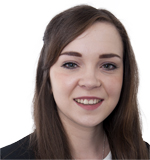 I began my Aberdein Considine career as a summer student in the Shawlands office, working in both property and litigation. Having already experienced the workings and the ethos of the firm, I was absolutely delighted to begin my traineeship in the Dispute Resolution department based in the main office in Aberdeen, in May 2016.
Moving to Aberdeen having only set foot in the city once in my life (that being for my traineeship interview!) was a very daunting prospect. However, I feel very lucky to have had to opportunity to work with a group of very friendly and supportive people, who made me feel welcome and part of the time from day one.
As an Aberdein Considine trainee, you are given lots of responsibility from the beginning. However I was certainly not left to fend for myself, as my team were always on hand to offer help and guidance whenever needed. Being given my own case load from day one has been an excellent way to learn and give me hands-on experience of the workings of a civil litigation solicitor. I have been involved in a wide range of cases for both lender clients and private clients, and have had the opportunity to appear in court.
The firm also has a great social side, with many events held and after work drinks being commonplace. Additionally, the trainees as a group are all very close even if based in different offices.
I am now in my second year of my traineeship and am based in our Edinburgh office. The last year has flown by very quickly, but has been a fantastic experience that has without a doubt prepared me for my future career as a solicitor.