Megan Hannah, Trainee Solicitor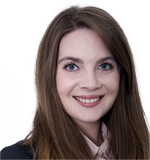 I started my traineeship with Aberdein Considine in May 2016 working in the Dispute Resolution and Volume Recoveries Team. I am based in our Waterloo Street office in Glasgow, and regularly work in our Edinburgh office too. I am currently 16 months into my traineeship and I am thoroughly enjoying it. I have a varied workload including aspects of Professional Negligence, Debt Recovery, Insolvency and Secured Recoveries. I also have the opportunity to appear on behalf of clients in various Sheriff Courts on a regular basis.
It is often said that the biggest asset of a firm is their employees and Aberdein Considine is no exception. From day one of my traineeship, I was made to feel welcome and like a valued member of the team. The Firm encourages everyone to build their own case load which can be daunting but there is always someone on the sidelines willing to offer a hand and cheer you on! It is very much a work hard/play hard ethos and the social aspects of my traineeship have been second to none. There is always someone encouraging the office to head out for one for the road on a Friday night (or Monday/Tuesday/Wednesday/Thursday)!!
My traineeship with Aberdein Considine has so far been an amazing experience and one which I am very grateful for. Aberdein Considine values its trainees and provides them with the opportunity to build their own caseload from a very early stage which I think assists in providing a first class traineeship. I am very much looking forward to the next 8 months with the Firm.