Kate Bradbury, Solicitor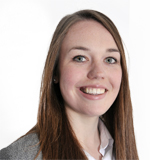 My Aberdein Considine journey started in July 2013, following my Erasmus year in Strasbourg. I spent 3 months working for the Firm as a summer placement student, splitting my time between the property management department and the reception team. Despite my young age and limited legal knowledge, I was treated as a valued member of staff and was quickly made to feel one of the team. A summer placement with the Firm was an excellent opportunity to gain office experience and become accustomed to the day to day workings of a legal firm.
After completing 4th year at Glasgow University, I returned to Aberdein Considine as a student within the Family Law Department. I was delighted to work with such an experienced, well-qualified and friendly team. My time within this department confirmed my desire to focus on a career in family law, and I then made the relevant subject choices in my Diploma year.
Then on 25th May 2015, I started my traineeship with Aberdein Considine. Despite knowing the office and the majority of the staff, I still felt the jittery nerves every new trainee feels on Day 1. I had been allocated a traineeship within our Property Shop on Union Street doing residential conveyancing and private client work. Within my first month, I had my own files and was meeting clients. The day I sold my first house is one I will never forget!
In November 2015, I switched my traineeship over to the Family Law Department to cover a maternity leave. Whilst Aberdein Considine's training policy is to keep trainees in the same department for the full two years as opposed to doing seat rotations, the Firm were incredibly willing to facilitate my change of seat. I was delighted to be moving into my favoured area of law. 22 months on, I remain within the Family Department, now as a qualified solicitor. I have been appearing in Sheriff Courts within the North East of Scotland for over a year, I meet with my own clients and am constantly drafting Minutes of Agreements, Wills, Powers of Attorney and a variety of court documents. No day is ever the same and there is always something new to be learnt.
There are no glass ceilings at Aberdein Considine. If you put the work in, you will be rewarded. My traineeship was a learning curve and whilst fellow trainees, paralegals, solicitors and partners have helped and supported me, the onus was, and continues to be, on me to do my best and take control of my own learning. Whilst the hard work is important, trainees at Aberdein Considine must be prepared to throw themselves in socially too! Throughout my traineeship I've worn fancy dress on multiple occasions, run a sponsored 10k, participated in charity race nights and enjoyed multiple socials. My traineeship was 730 days of hard work, fun, new experiences, Friday night drinks and ultimately, a huge feeling of satisfaction.