Jamie Guyan, Trainee Solicitor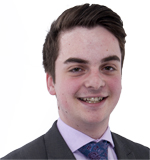 I have been with Aberdein Considine since May 2014. I was taken on as a Summer Student and worked initially in the Westhill property branch. I was able to gain instant hands-on experience in a busy estate agents and was given responsibilities from day one. I had to learn fast and was exposed to clients and viewers at a very early stage allowing me to quickly build confidence in dealing with clients.
I continued to work with the firm part time throughout my fourth and diploma years at university. This allowed me to continue gaining experience of working in a law firm and in an office environment while studying for my degree and diploma. I moved into the remortgage conveyancing team for the last 18 months of my studies which was a high volume work load role working for some the UKs largest financial institutions. Latterly I assisted with a large Employment Law matter along with senior members of the Employment Law and Dispute Resolution team. The diversification of the experience I gained as a student was invaluable.
Since then I have been able to grow and adapt as a Trainee Solicitor working in the Dispute Resolution department which was my dream seat. At Aberdein Considine you are given a work load from day one of your traineeship, handling a personal case load and advising clients on legal issues. The whole time you have unrivalled support from your departments Associates and Partners who monitor your progress and assist with any issues you have.
A Traineeship with Aberdein Considine is an opportunity like no other and I have been blessed to work with such a progressive and forward thinking firm. Aberdein Considine are big enough to give you a fantastic and diverse, legal learning experience and small enough that everyone knows you by name, there are no numbers in this firm.