The average Scottish city house price has risen by almost 3% from £181,061 in 2016 to £186,002 in 2017, a faster increase than the 1% for the whole of Scotland.
This has resulted in average home affordability in Scotland's cities worsening in the last 12 months from 5.2 to 5.3 times gross average earnings.
Stirling 'most affordable'
Not only is Stirling the most affordable city in Scotland, but it now takes the title of the UK's most affordable.
At £173,848, the average property price in this city is 3.7 times average gross annual earnings.
This is much lower than the UK cities average of 6.9.
Edinburgh 'least affordable'
Edinburgh's average house price of £236,136 is six times annual gross average earnings, making it Scotland's least affordable city.
Aberdeen (5.7), Perth (5.7), Dundee (5.5) and Inverness (5.5) make up the top five least affordable cities in Scotland. Londonderry (3.8) in Northern Ireland is the UK's second most affordable city.
Other most affordable Scottish cities to feature in the UK top 20 are Glasgow (9th), Inverness (15th), Dundee (17th) and Perth (20th).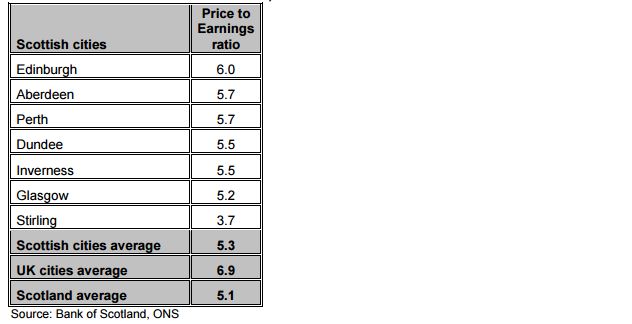 House price growth
Perth has recorded the biggest price rise of any Scottish city over the past decade with a gain of 31% between 2007 and 2017, compared to the UK cities average of 21%.
Edinburgh, Inverness and Aberdeen had the next highest price rise, with all seeing a gain of 16%.
No Scottish cities feature in the top ten UK cities with highest house price growth this year.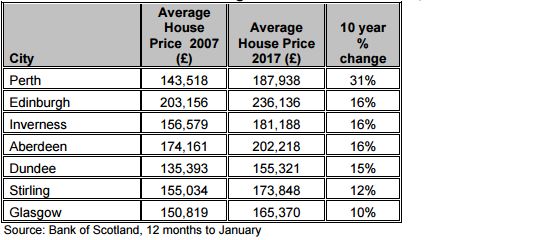 Scotland's property experts
If you are looking to buy, sell or lease property, Aberdein Considine can offer you the support of some of the most experienced property professionals in the country.
We are also an independent broker of mortgages and can offer home loans without any hidden fees.
If you would like to speak to a member of our team, call 0333 0066 333 or click here.
* Your home may be repossessed if you do not keep up repayments on your mortgage