Ayr was Scotland's house price winner of 2020 as the seaside town recorded the country's biggest increase this year, according to new research.
Figures from Bank of Scotland show the average house price increased by 15.5% (£23,839) to £177,984 over the past 12 months, while 60 miles east in Dumfries, house prices rose by 13.6% (£18,471) to £154,021 during the same period.
Inverness is the city with the biggest jump in average price in 2020 an increase of 8.1% (£14,687) with an average property price of £195,534.
Already home to many of the priciest addresses in the country, Edinburgh came in at in seventh place – with an additional £15,581 (6%) increase to the average price of a home this year. Despite its place in the table, the average property price of £274,246 is the most expensive in Scotland.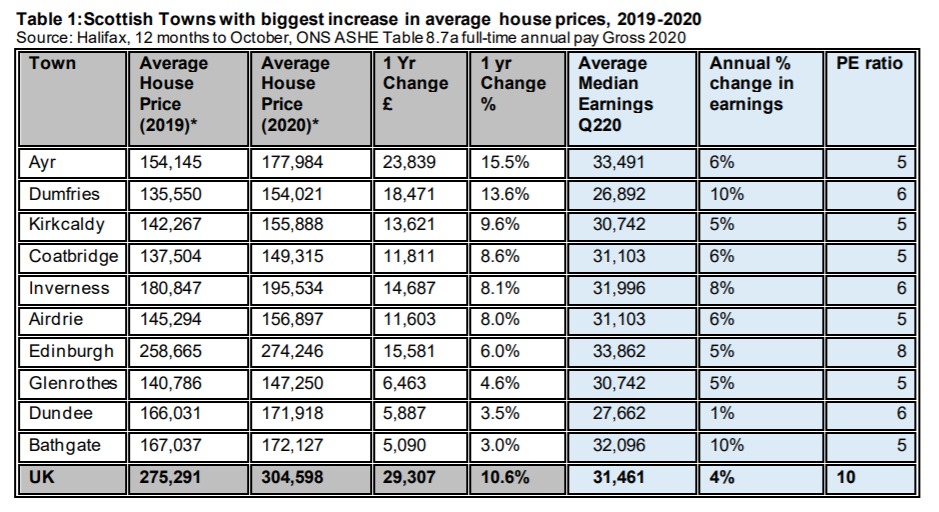 Dip
However, 2020 has also seen changes in value in the opposite direction across Scotland.
West Lothian's largest town, Livingston, has seen a fall in house prices of 8.1% this year, equivalent to £15,396, with the average house prices in the area dipping from £190,152 to £174,756 in the past 12 months.
Motherwell in North Lanarkshire has seen a dip of 2.7% (£4,266) on last year, with an average house price of £151,015 – which is less than half the UK average (£304,598).
Affordability
Edinburgh is still the least affordable place to live in Scotland, with house prices around eight times the average annual earnings in 2020. The average cost of a property in Edinburgh is now £274,246. Both Inverurie – outside of Aberdeen – and Aberdeen command property prices of seven times the average wage.
When it comes to more affordable places to buy, house hunters looking in Paisley, Renfrewshire will find properties more affordable – with the average home costing three times the average earnings.
Kilmarnock in East Ayrshire provides another option for those looking for a more affordable property with the average house price of £146,351 – around four times average earnings.
Get an expert market valuation
Click here if you would like to arrange an expert valuation of your property.