Throughout February, we are teaming up with the people behind some of Scotland's most incredible home renovations to give our followers some property inspiration ahead of Spring!
This time we caught up with Stuart McCondichie, who alongside his partner has been documenting the renovation of their neglected 1880's conversion in Kelvinside, Glasgow, into their stunning "forever home".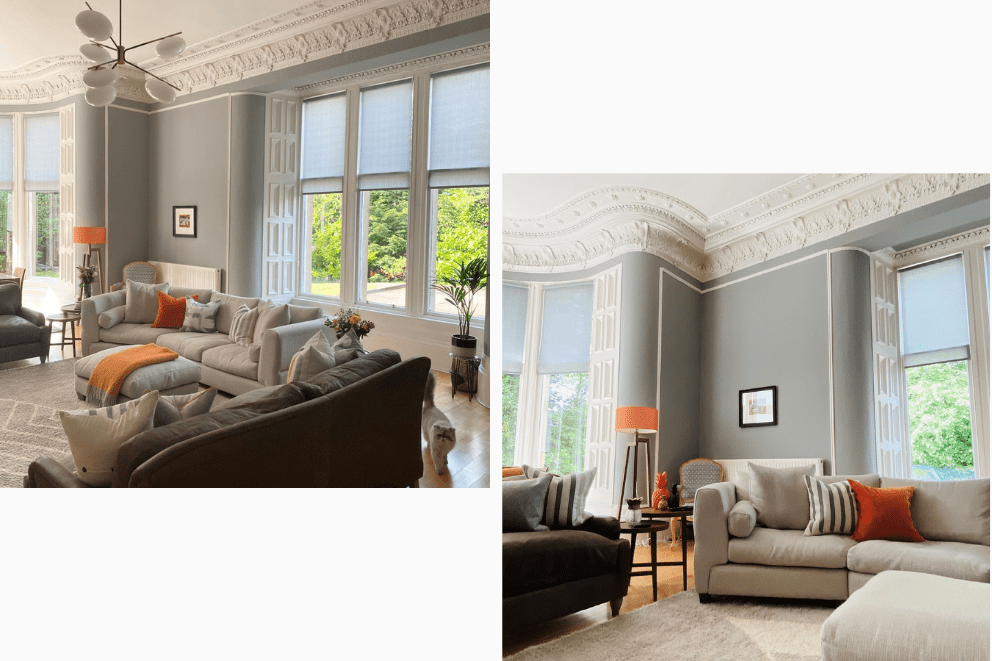 Tell us about your home and what drew you to it initially?
We were drawn to how unique the house was, with a variety of Victorian buildings on the street, this one really stands out. When viewing the house two things really struck us. At the rear of the property, we have a fully enclosed courtyard garden, which is really tiny, but is solely owned by our flat. It isn't often that a conversion has an outdoor space, solely for the use of one property.
It is a great wee space for a BBQ or dinner outside and we have plans to change this area a little to improve it, but this has been delayed with the current restrictions. The second feature we fell in love with was the dual aspect lounge – the day we viewed the house was so sunny and the room was filled with light – it is such an incredible space and the last room we looked at during the viewing – it really stuck in our memory.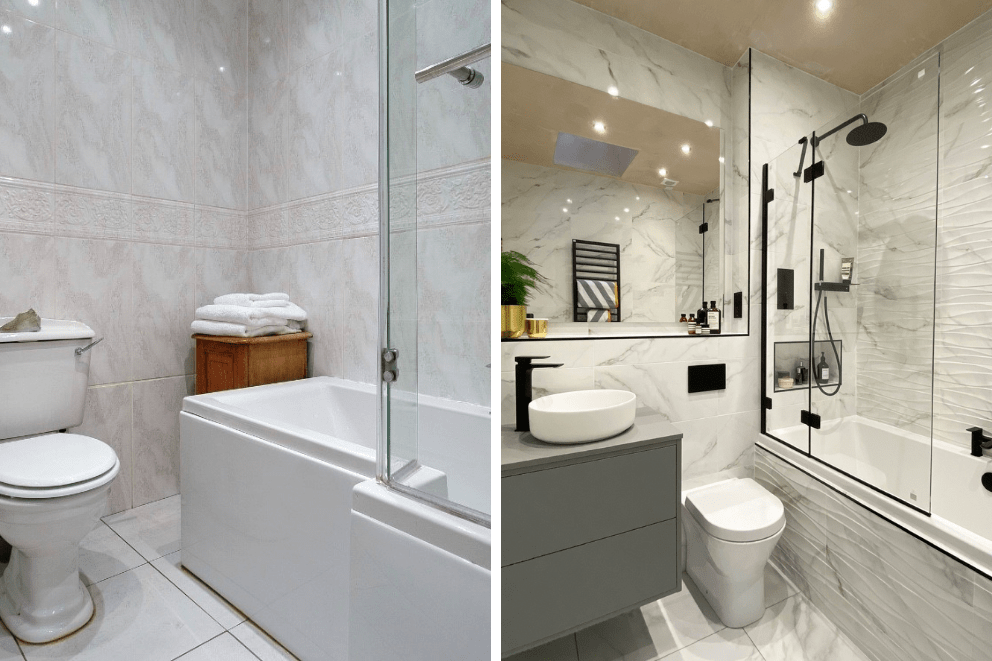 What has been the most challenging part of your journey?
We haven't had many challenges really, prioritising work is probably key. We ended up doing work in a few rooms at the one time soon after we got the keys, which meant a bit of an upheaval and not really having one space complete. I took it upon myself to rip out the little WC one weekend - with no plan really on how to put it back together.
The biggest thing to deal with has been the impact of Covid-19. We had works planned to refurbish the old sash and case windows in a few rooms and this was delayed for around eight months due to the lack of availability of materials and the lockdown itself, which meant we had much of the summer without being able to open windows – this is all complete now and has made such a massive difference.
We also have some plans to replace a dated conservatory which currently houses the kitchen and we are looking to switch the layout around a little. This will require full planning and listed building consent, but is currently on hold due to "non-essential work" not being allowed – we are still hopeful we will be able to carry out the majority of the works before the end of 2021.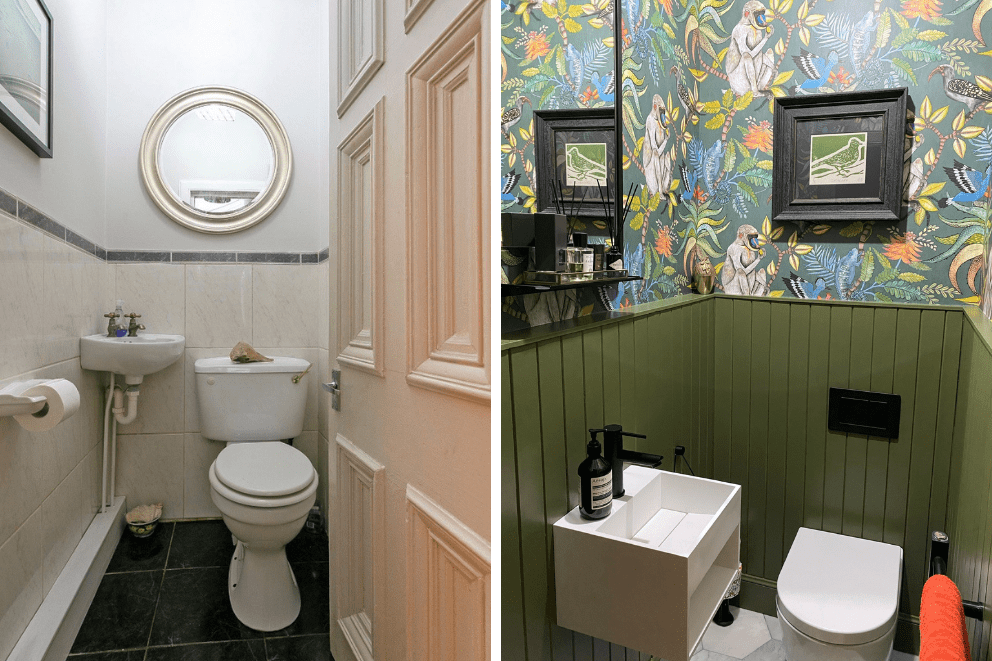 Did you have a budget in mind when you started, and did you manage to stick to it?
We did have a budget I mind, mostly for decoration and the replacement of the WC and bathroom, we hadn't expected to carry out the window refurbishment works – nor anything as extensive as the conservatory replacement, certainly not as soon as we are now planning, however living in the space for the past 14 month has meant we can see how we need to change it to suit how we live our lives.
I don't necessarily think when viewing the property we looked in as much detail as we really should. We loved the space and we could imagine ourselves living here for a long time and the work we are planning is to improve the space for us. As an aside, I do believe it will make the property more attractive for re-sale as I'm sure many people would have been discouraged from offering on the property before due to the quirky nature of the kitchen conservatory for example, although we could see beyond that.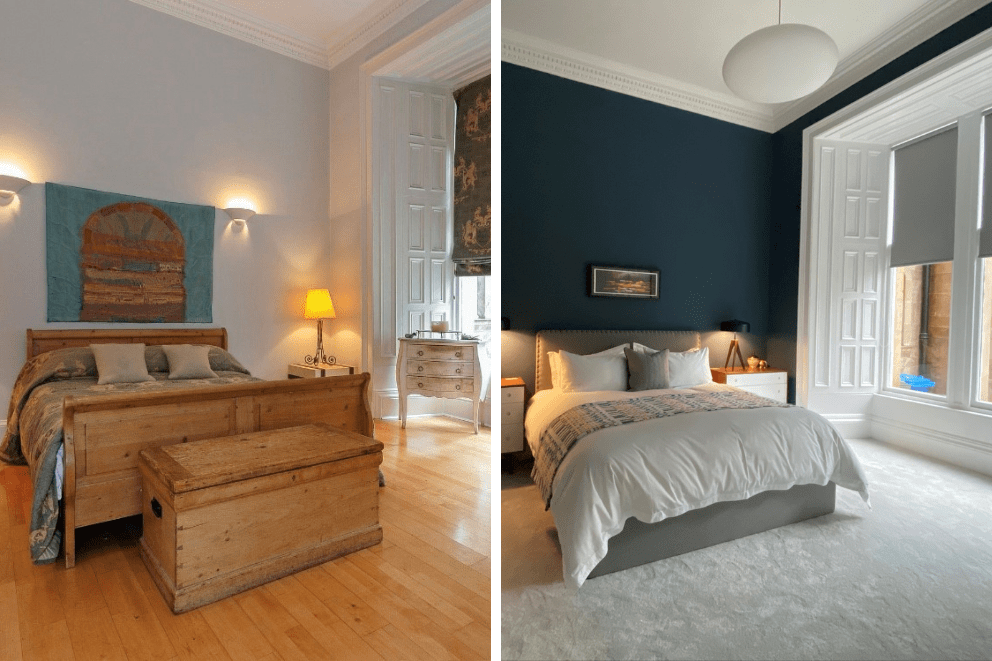 Which room in your home is your favourite now?
I have two favourite rooms, the first is the lounge. The proportions are wild being just short of 35ft by 25ft, dual aspect with curved glass bay window and original intricate cornice work. It is such a stunning room. We think it would have been the original drawing room when it was one house and are very lucky to have it as part of our flat. We have only decorated this room but have future plans for a new fireplace that is more in keeping with the period of the property and some new flooring, although this is a long-term plan.
My second favourite room is the tine WC which is just over a 1m long and just under 1m wide. It is tiny and was very 'of its time' before. Now we feel it is a real talking point. We have installed wood panelling and one of our favourite Cole and Son Wallpapers above. The WC and sink are by Lussostone and finished with the black fittings adds a bit of a contemporary edge against the polished marble floor– we are delighted with the end result here.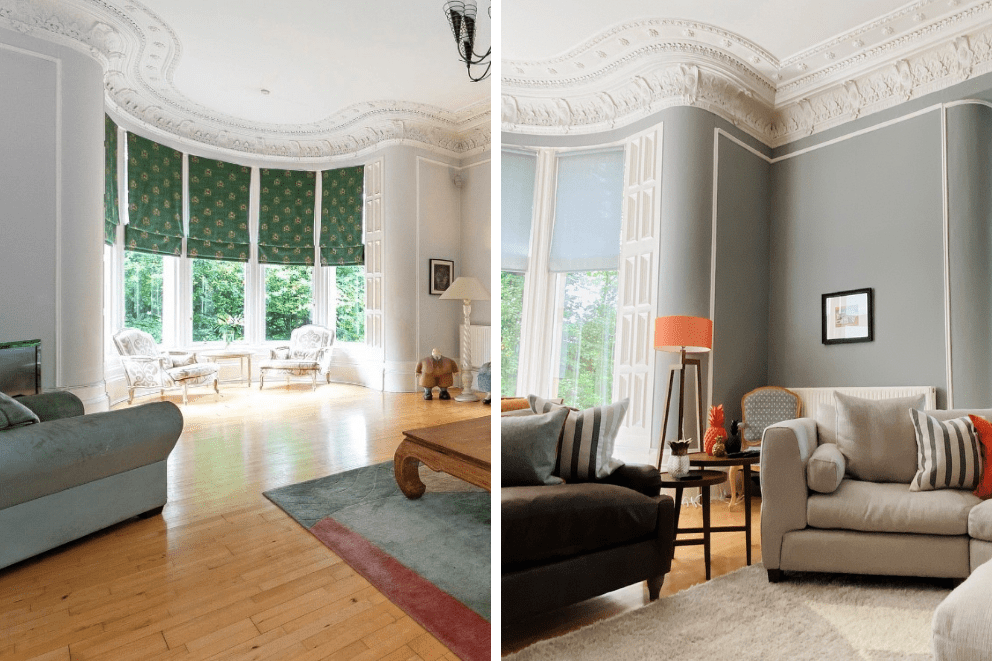 What are the three features people should look for when taking on a project like yours?

I guess this will differ for one person to the next, but the three important factors for me are:
Location – I know this is a cliché. We moved to our last house in the suburbs from the west end. We had decided we needed more space and a bit more privacy, rather than the shared access/gardens we had before. It soon became apparent that we spend all of our time then traveling back to the west end for our social life. It was a good, if expensive, process to go through but we are happy now that the location of this property ticks all the right boxes for us – again it works for how we live our life, not just in terms of the home itself but the location.
Original features in a period property. We lived in a new build property before which we loved, but we did miss the original cornicing etc of previous homes. The fact the original features had largely survived in this property were a real bonus for us. There is nothing worse than viewing a period property that has been completely stripped of period features. Granted things can become damaged over time, but where possible I would always try to retain as much as I can or if possible put back some features sensitively. Glasgow Architectural Salvage is a great source period fittings – we even managed to pick up some coveted original beehive door handles and ironmongery for the front door during a trip there.
The space – how does the space work for how you live your life? If it doesn't currently work for you, can it be adapted to suit? I think it is important to look at the potential of a property and not necessarily how it is currently configured.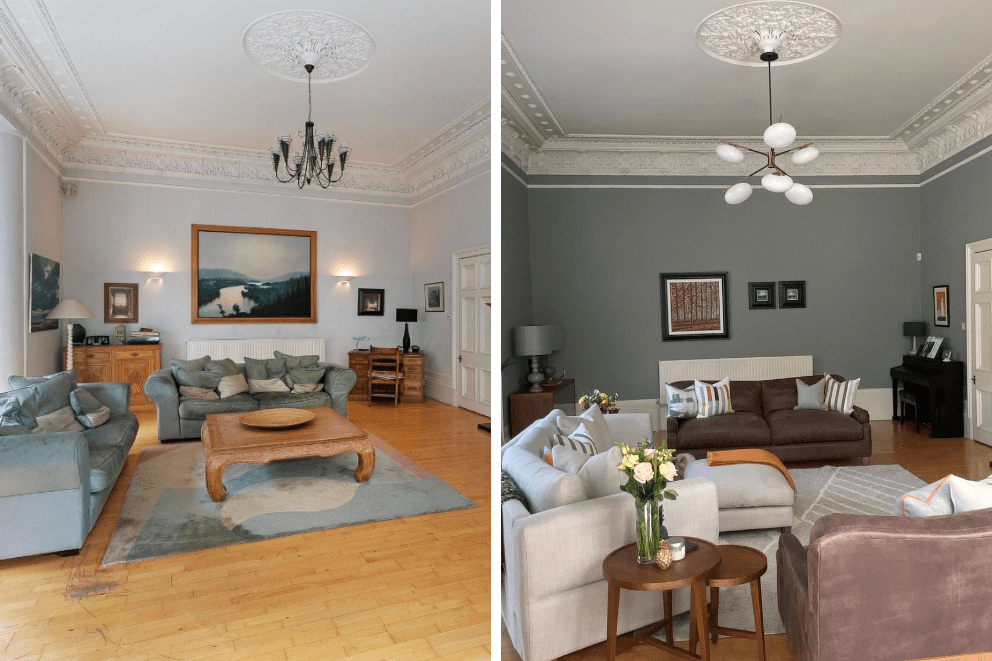 Would you do it all again?
I'd definitely do it all again. I don't think any property, unless being built to my exact specification, would be right, even paying a premium for one that has been developed and polished for sale. It just wouldn't be right. I would always want to change one element of it and the stress, mess and expense is always outweighed with the end result. I think investing well and doing things properly is the key.
You can follow Mark's renovation on Instagram by following @ourkelvinsidecorner