We have been teaming up with the people behind some of Scotland's most incredible home renovations to give our followers some property inspiration.
Today we have been speaking to Janie and Gordon, the couple behind Instagram's @sandstone_and_sawdust blog, who have been documenting the stunning renovation of their 1880s Glasgow villa.
And take our word for it.... this place is house goals!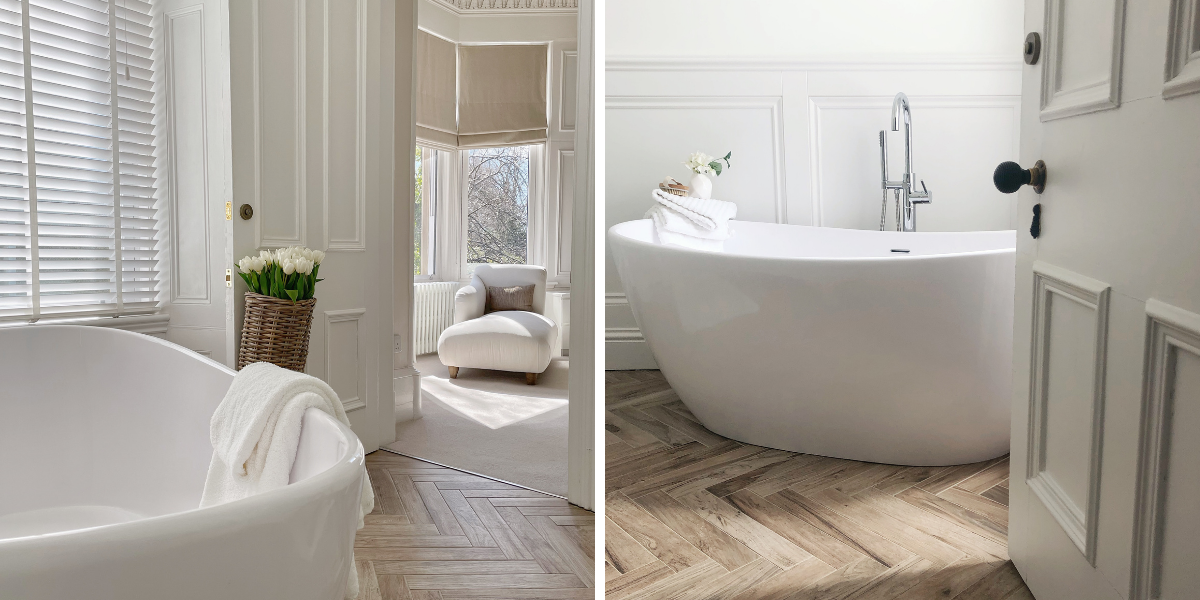 Tell us about your home and what drew you to it initially?
Our home is a blonde sandstone Victorian villa built in 1880 sitting on a quiet street on the outskirts of Glasgow. The high ceilings, original features and peaceful, leafy location were major attractions. We had viewed countless houses before this one came on the market so we knew this one was special when we saw it. The house had been neglected for several decades and as a result we had to replace the roof, all the sash windows and fitted a much-needed new heating and plumbing system. It originally had two reception rooms, kitchen, a study and toilet downstairs. The original "lean to" at the rear of the house was riddled with damp therefore we decided to demolish it and build an open plan kitchen/ living room in its place. We also re-configured the original downstairs layout to provide us with three reception rooms, downstairs loo and utility room.
What has been the most challenging part of your journey?
The most challenging aspect was the sheer and scale of the renovation. On the day we got the keys we felt completely shell-shocked and overwhelmed with what we had taken on! The whole house needed ripped apart and modernized, the process took nine months from the day the builders started to the day they left, with the months prior to that spent planning the rear extension. Fortunately, our builders were brilliant, their attention to detail was fantastic and they genuinely cared about making an excellent job. We were lucky enough to live off site during the works away from the dust and chaos. However, it was still all-consuming with countless decisions to be made every single day from kitchen layout to the position of light switches and plug points.
Did you have a budget in mind when you started? And did you stick to it?
We did have a budget however renovating an old property certainly throws up plenty of hidden costs. Therefore our budget was severely stretched to say the least. We knew the roof needed some repair work but to discover the whole thing needed replaced was quite a shock! The old saying of "think of a number and double it" comes to mind. So much of the budget gets ploughed into the work you can't see such as insulation, heating and electrics. As a result we haven't been able to furnish the house as quickly as we would have liked and we still have an eyesore of a garage to replace however we are just taking our time. We'll get there one day.
Which room in your home is your favourite now?
So hard to pick a favourite but if I had to I'd probably have to say the hall and staircase. The wrought iron spindles were all removed, shot blasted to remove all the old layers and layers of paint then powder coated to give a lovely matte finish. There's just something really special about the beauty and history of this part of the house. That said, the rear extension is such a lovely warm area especially when the sunlight floods through the rooflights and sliding doors. It's no secret that old houses can be cold and draughty so it's lovely to have a modern cozy space to spend time in too. We really do have the best of both worlds.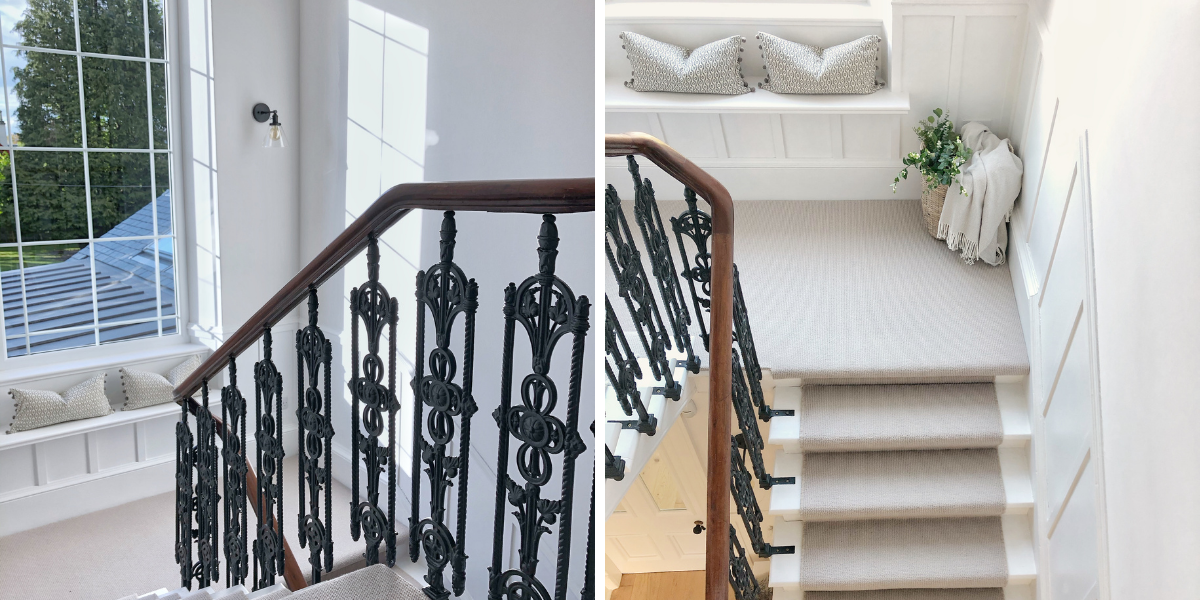 What are the three features people should look for when taking on a project?
Before taking on a project like this I would encourage would be renovators to ask themselves if all their hard work will be worth it. Is the property in a good location?. The potential of the property is so important too, can you realistically adapt the house to be what you ultimately would like it to be? Also it's very important to make sure you have the budget to turn your dreams into reality, do as much homework and get as many quotes as possible. If the unforeseeable happens and the budget runs over do you have the patience to wait until you have more funds?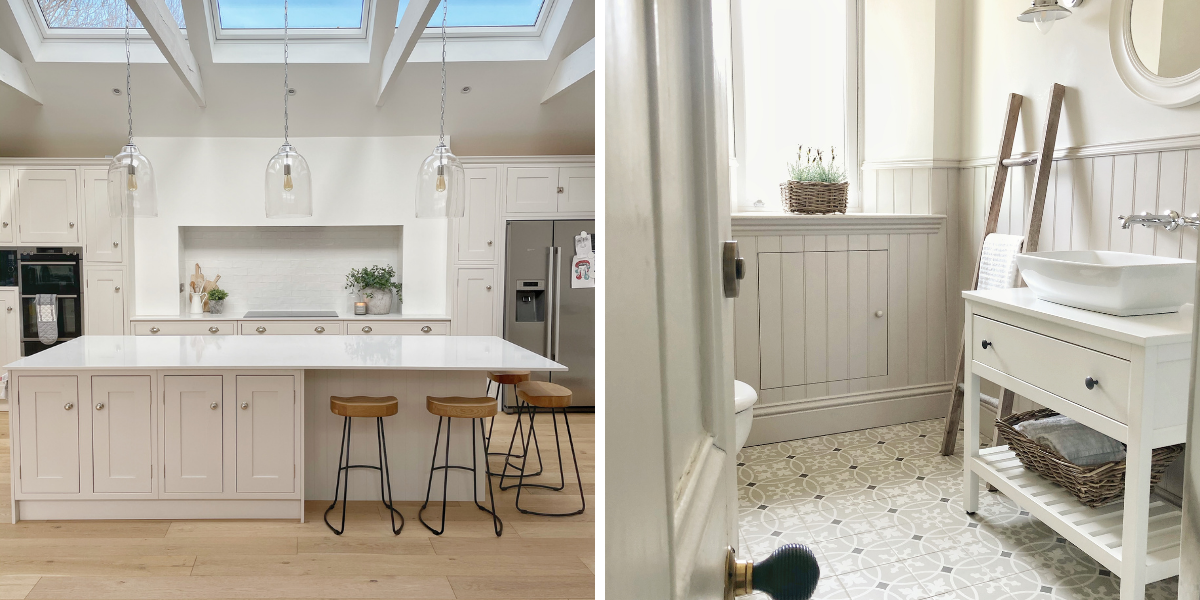 Would you do it all again?
It's certainly not on our radar at the moment however there is something satisfying about giving an old run down property a new lease of life. Never say never!
You can follow Janie and Gordon's journey - and see more photographs - on their Instagram page, @sandstone_and_sawdust